Members of the Foundations Leadership Team will be attending the CORD Academic Assembly, March 31st-April 3rd, in Seattle, WA.  We look forward to connecting with our member sites so come find us at the following events, and don't forget your Foundations Swag!  Read below…
Foundations Presentations
New Programs & Leaders:  Monday 4/1, 9:45-10:15am
* Current member site leaders and learners are encouraged to attend this lecture to share your experiences during our Q&A.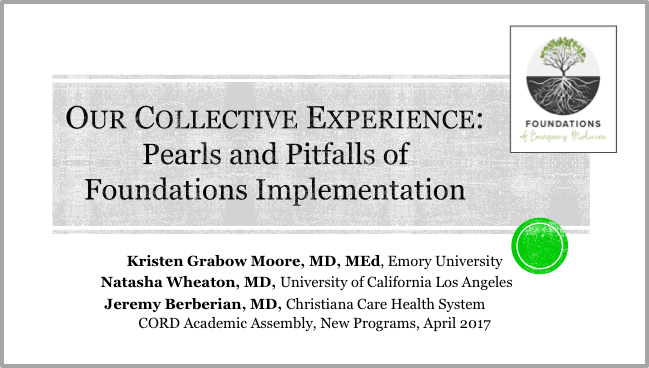 Advances in Education Research and Innovations Forum:  Monday 4/1, 5-6:30p
Residents as Teachers: Applying the Foundations Model for Structured Near-Peer Education
Foundations EKG I & EKG II: Open Access Flipped Classroom Critical EKG Curriculum
A complete list of our Foundations @ CORD presentations can be found here.
Foundations Office Hours & Individual Meetings
Come join members of Foundations leadership to discuss implementation at your site, ask questions or just meet our team.
Office Hours: Hyatt Regency Seattle,  2nd Floor "Market", look for our Foundations sign
Sunday March 31st 1:00-2:30p
Tuesday April 2nd 9:30-11:00a, 2:00-3:30p
Individual Meetings: click here to sign up for a 30min individual meeting if you'd like 1:1 time (listed PDT time)
Foundations Swag
Keep your eyes peeled for our Foundations Leadership who will be wearing green lanyards at CORD.  Please stop us and introduce yourselves!  Also, be sure to check out our Office Hours listed above to pick up your own swag and show your Foundations PRIDE at CORD!
Foundations pins (wear on your CORD lanyards) for all member sites (leaders and learners)
Thank you gifts for all of this year's content contributors- a small token of appreciation for your time and talent
Foundations Social Media
Follow us on Twitter @FoundationsEM for Foundations updates and CORD happenings!